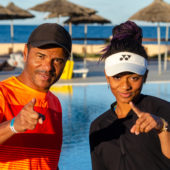 I can be unstoppable
Hervé was instrumental in developing my career.
During the 2 years I worked with him, I learned dedication, tenacity, responsibility, and more than anything, the value of hard work. I took everything Hervé taught me into a successful Tennis Europe Tour U16, ITF Junior U18 and continue to draw on his invaluable lessons on World Transition Tour.